WINTER WRITING RETREAT
Jan 4-7, 2018
Sponsored by Redbird, held at The Clearing in Ellison Bay, WI
Limited registration
Filled for 2018
MASTER CLASS
Monthly meeting
Led by Judy Bridges, in Bay View
Limited registration
Filled Jan-Jun, 2018

WOMEN'S WRITING RETREAT AT THE CLEARING
One full-week class: October 14 - 20, 2018
Led by Judy. Sponsored by The Clearing in Ellison Bay - Door County, Wisconsin
The Clearing opens registrations in February. See www.theclearing.org
This retreat is for women who are committed to their writing but have a hard time focusing on it in busy days at work and home.
Writers cherish this week full of hours they can call their own. Whether you write fiction or nonfiction, long pieces or short, for yourself or for publication, you will enjoy the morning warm-ups, quiet afternoons to write, and evenings to write, read, or hang out by the fire. Add a conference with a caring mentor, and the company of others who share your love of writing, and you are practically in heaven.
This class is designed for writers who want a solid chunk of time in which to focus on their work. In the mornings, the group will gather for warm-ups and optional feedback sessions. Afternoons are designated quiet writing time, giving you the luxury of writing in silence, with no interruptions, for as long as you please. Private conferences take place throughout the week and are optional.
Whether you want to work on your book, finish a short story, craft a nonfiction article or complete your memoirs, you are bound to make progress during this wonderful week.
Judy Bridges is the author of the award-winning writers' guide, Shut Up & Write! and the founder of Redbird Studio writing center in Milwaukee. Prior to founding the studio, she earned her living writing articles, short stories, plays and corporate communications. She holds bachelor's and master's degrees in creative writing and adult education. Her next book will be a collection of life and family stories titled You Drive, You're Too Drunk to Sing.
Level: Intermediate (some writing experience but you don't need to be published)
Judy will contact students prior to class.
Note: Judy is allergic to fragrances. Please bring fragrance-free products to use during this week. Also, bring your copy of Shut Up & Write! with you, or you can purchase one at The Clearing Book Store.
The Clearing
P.O. Box 65
12171 Garrett Bay Road
Ellison Bay, WI 54210
Phone: 920-854-4088
Toll Free: 877-854-3225
E-Mail: Clearing@Theclearing.org www.theclearing.org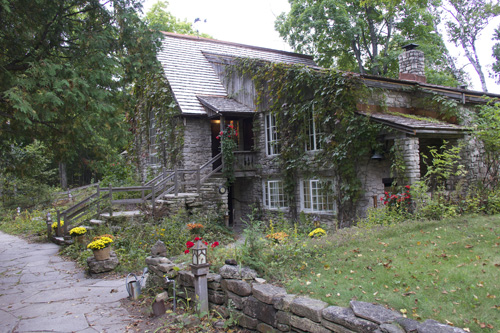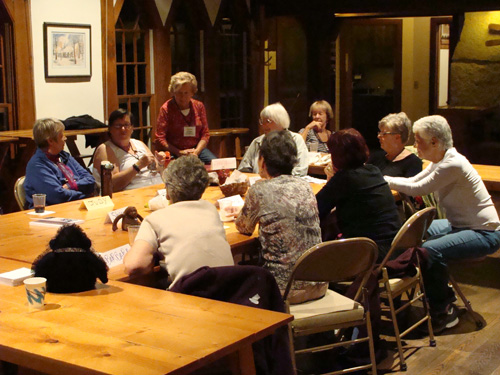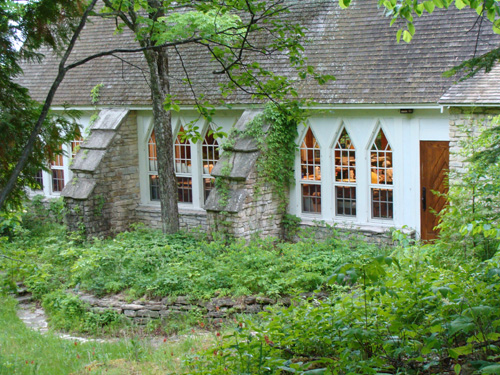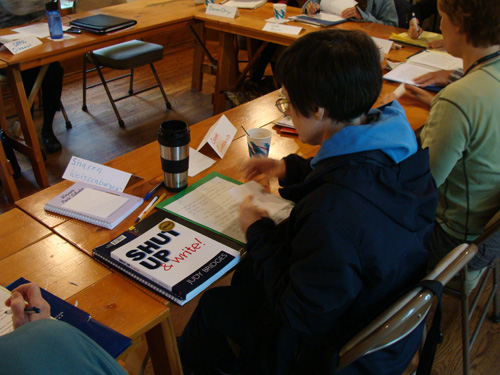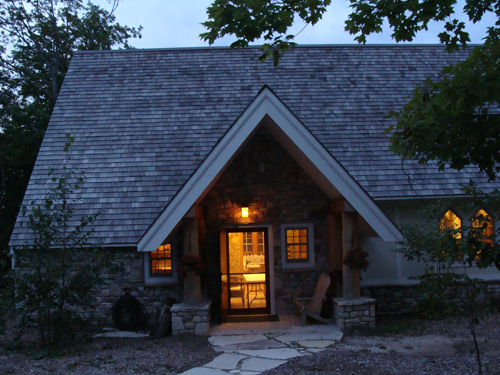 Recent Events
Itchy Pens: How to Get Started Writing Practically Anything
Elm Grove Library

Ever get stuck when you are trying to write? Most of us do. Judy Bridges, founder of Redbird Studio and author of the award winning guide, Shut Up & Write! offers encouragement and tips you can use to get started and say what you want to say. Experienced in fiction, nonfiction, plays and writing for business, Judy makes all forms of writing accessible and fun. Bring a notebook and your favorite pen or pencil – you won't want to miss a word.
For beginning and experienced writers
Announcing...
SHUT UP & WRITE!
with Judy Bridges
LAST CLASS AT THE MARIAN CENTER

Judy Bridges started mentoring writers at Redbird Studio in the Marian Center in 1992, when the building was still known as St. Mary's Academy. At the end of June, 2016, the Center's doors will close, leaving us with our memories of the studio, the long shelves of published works, and the hundreds of wonderful people we met along the way.
The Last "Shut Up & Write!" class at the Marian Center
Sponsored by Judy Bridges of Redbird Studio
Held in the Red Oak Writing classroom, #205
3195 S. Superior St. Milwaukee 53207
Sunday Afternoons
April 3, 10, 24 and May 1, 2016
12 noon – 3:30 pm (bring your lunch if you want)
$345 (deposit to hold place in class: $100)



(This class is FULL. Please email Judy to be added to the wait list. Please include your phone number so Judy can contact you.)
Develop your skills
Build confidence
Get moving!
This nationally known class has helped many writers get moving on the road to success. Beginners use this class to learn the brass tacks. Pros use it to tune-up or polish skills in added areas of writing. It doesn't matter whether you are just starting out or have been writing for years, there is always more to learn.
At the heart of the class is Judy's belief that writers arrive at the table with everything they need to do the job. You have a lifetime of experiences. You have ideas. You have the basic skills of writing or can learn them as you go along. The only trick is to reach inside yourself and develop what you already have.
That's where Judy comes in. Her special gift is to pay attention – to what you want to accomplish, to your experience, to your natural and learned skills. She adds these elements to what she knows about the field of writing and the subtleties of communication, and helps you get moving on a path you'd like to follow.
Class includes practical tips and techniques you can use to write prose in any style: fiction and nonfiction stories, articles, memoirs, essays, plays, and corporate communications.
Learn how to:
Get your thoughts in order
Bring your characters to life
Write powerful, attention-grabbing scenes
Get, and hold, your readers attention
Master Point-Of-View, Show vs Tell, and Narrative Drive
Get, and give, useful, encouraging, critique
And best of all, enjoy the company of a small group of writers from all backgrounds, all ages, all levels of education and experience. This is a place where friendships are made.
Be inspired
Get focused
Write!
What students say:
"I can't remember the last time I enjoyed something as much as I enjoyed this class. I felt safe, stimulated and inspired."
Marie Moody New Berlin, WI
"Gave me the help I need to organize and make something out of my thoughts."
Tricia Mowen Austin, TX
"Simplifies the process for me, even as an already professional writer."
Judy Fossen Delafield, WI

Redbird Studio and Red Oak Writers
Say Farewell to The Marian Center
We started mentoring writers in the Marian Center in 1992, when the building was still known as St. Mary's Academy. At the end of June, 2016, the Center's doors will close, leaving us with our memories of the studio, the long shelves of published works, and the hundreds of wonderful people we met along the way.

Though the Center is closing, Redbird and Red Oak continue to support writers in various ways highlighted on our websites.

Our last events at the Center include: 1) a Writers' Showcase sponsored by Red Oak, and 2) a Gathering of Redbirds sponsored by Redbird Studio.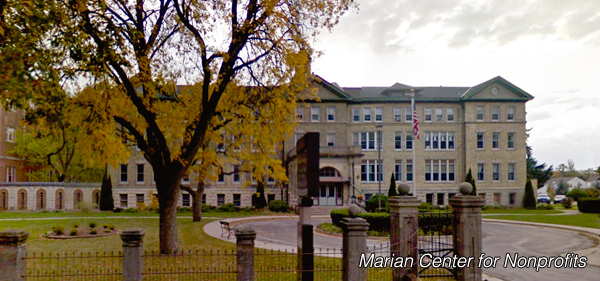 LOCATION for both events:
MARIAN CENTER FOR NONPROFITS
Main Floor Social Room #210
3195 South Superior Street
Milwaukee WI 53207

1. RED OAK WRITERS' SHOWCASE
Sponsored by Red Oak Writing
Thurs Apr 14, 6:45 PM (Optional potluck 5:00 PM)
Free and open to all



Presenting: Judy Bridges, Carol Wobig, Marjorie Pagel,
Jennifer Rupp, Christine Baerbock, Carolyn Toms-Neary,
Aleta Chossek, Lisa Rivero and Pam Parker



More info: www.redoakwriting.com or call Kim Suhr at 414-881-7276


2. A GATHERING OF REDBIRDS
Sponsored by Redbird Studio
Thurs, June 9, 6:30 PM (Casual party)
Everyone welcome



As the doors to the Marian Center for Nonprofits get ready to close, we gather in the old social room to celebrate our years in the building, the rooms that sheltered us, and the friends we made.



The party will be BYOB, so bring a beverage, and if you want, a nibble to share. We will have glasses and napkins, etc.



Dave is making a slide show of photos.
We may have a short program.



Please come Fragrance Free! Judy gets really sick from any scent in shampoo, lotion, hand sanitizer, and of course, perfume.



More info: www.redbirdstudio.com or Judy Bridges 414-481-3195
Register with The Clearing
920-854-4088 or toll free 877-854-3225
Location:
12171 Garrett Bay Road
Ellison Bay, WI 54210
920-854-4088 or toll free 877-854-3225