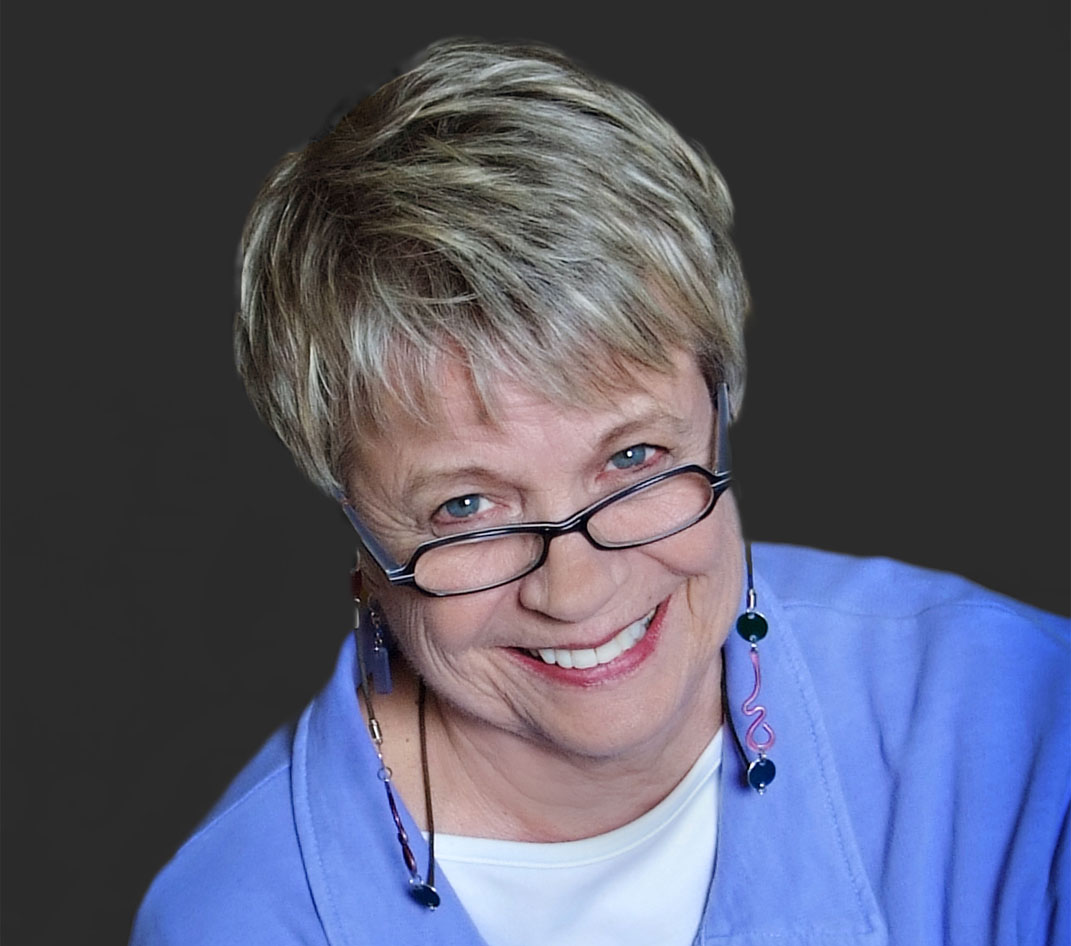 From the Bird's Nest...
The Writing Mentor Speaks Her Mind, Makes You Laugh, and Lights Your Fire!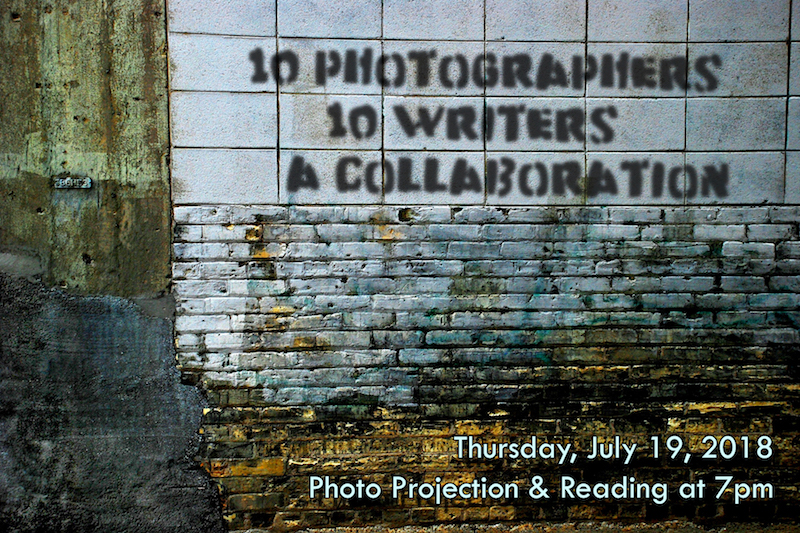 What a kick — a full house at Sugar Maple for the 2nd Annual presentation of "A Picture and a Thousand Words." Ten photographs. Ten excited authors reading work inspired by the photos. The audience was quick with laughter, gasps, and applause. Who could ask for more?
Thanks to project organizers Laurel Landis, Jonnie Guernsey and Dan Wilson for nursing this from idea to exciting evening. Watch their new website — writeapic.com — for photos of this event and (I hope) plans for 2019.
I'm ever so proud to be included in the 2018 lineup: Sheila Julson read "Cracks in the Foundation," inspired by Meg McCormick's, "Steps to Luxury." Stephen Jansen read "Pont Marie," inspired by Nicole Wayne's, "Pont Marie." Barrett Westberg, read an untitled piece inspired by Jason Hillman's, "ta.lis." Ken Walker read "The Summer of my Discontent," inspired by Dan Wilson's, "The Badge of the Broad Minded." Dan Wilson read "Loading Dock," inspired by Troy Freund's, "Moving Day." Judy Bridges (Hey, that's me!) read "The Window," inspired by Jason Hillman's "ope/rum." Harvey Taylor read "Waiting for the Sun to Shine," inspired by Azure Bielefeldt's "fruitful." Myles Hopper read "The Unfortunate Fortune Cookie," inspired by Ryan Laessig's, "Milwaukee alt/B." Dave Thome read "Joe Blueberries," inspired by Peter Wallace Lee's, "Ecoute moi beni." Kim Suhr read "The Virgin's Wink, inspired by Anna Rodriguez', "Madre of the Punk Rock Cafe."
The 2019 A Picture and a Thousand Words event is accepting submissions from writers and photographers. See the website for details.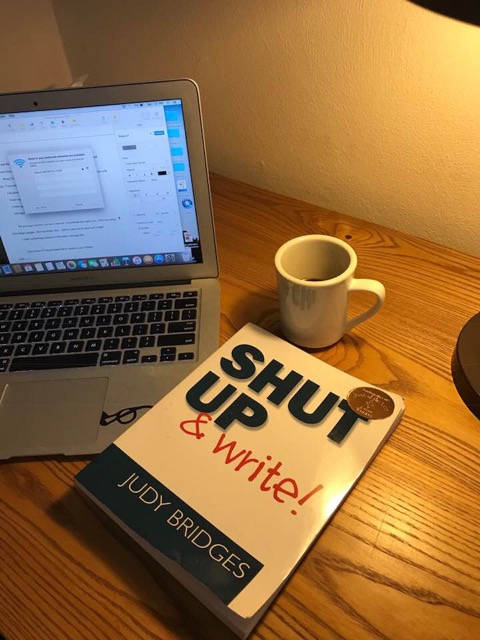 For your reading/writing pleasure these winter days
Boswell Book Company In Milwaukee has a fresh supply of Shut Up & Write! books — just waiting for you. They are also available at Little Read Books in Wauwatosa, Books & Company in Oconomowoc, Red Oak Writing in West Allis, Book Cellar in Waupaca, The Clearing in Door County, and of course, Amazon.com. This is just what I hoped for this book — that it would find its way to the minds and hearts of writers everywhere for a long long time.
The Winner!!!
Dave Blank's cityscape, "Thiele Tanning", won 2nd in Category and 3rd Overall in the "best of the best" of 596 entries in the 8th annual Light Space & Time Online Exhibition. The "Cityscapes" competition included entries from 22 countries and 32 states in two categories – 'Painting and Other Media' and 'Photography & Digital'.
Dave and the other winners will receive worldwide recognition. Thanks to the awards committee and all who admired and encouraged his work throughout the years.
See https://www.lightspacetime.art/cityscapes-2018-art-exhibition-overall-category/ and Dave's website: http://milwaukeeimpressions.com
That's my guy!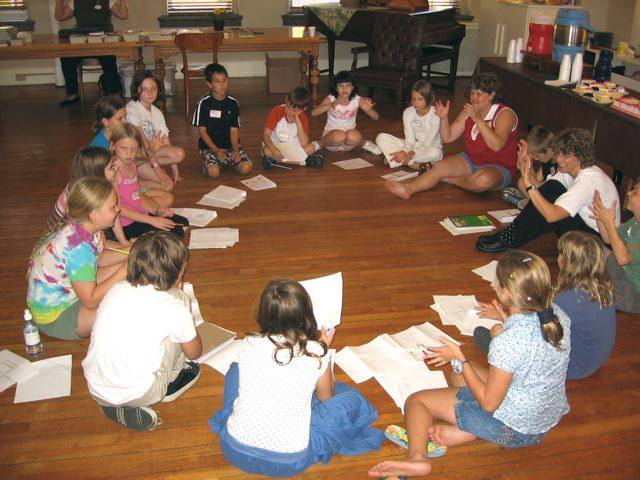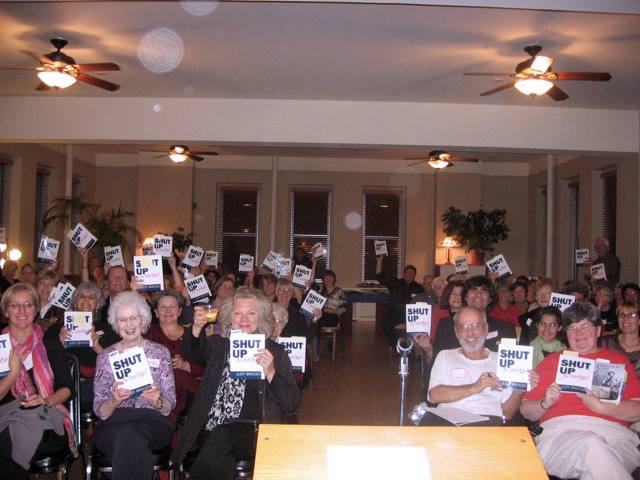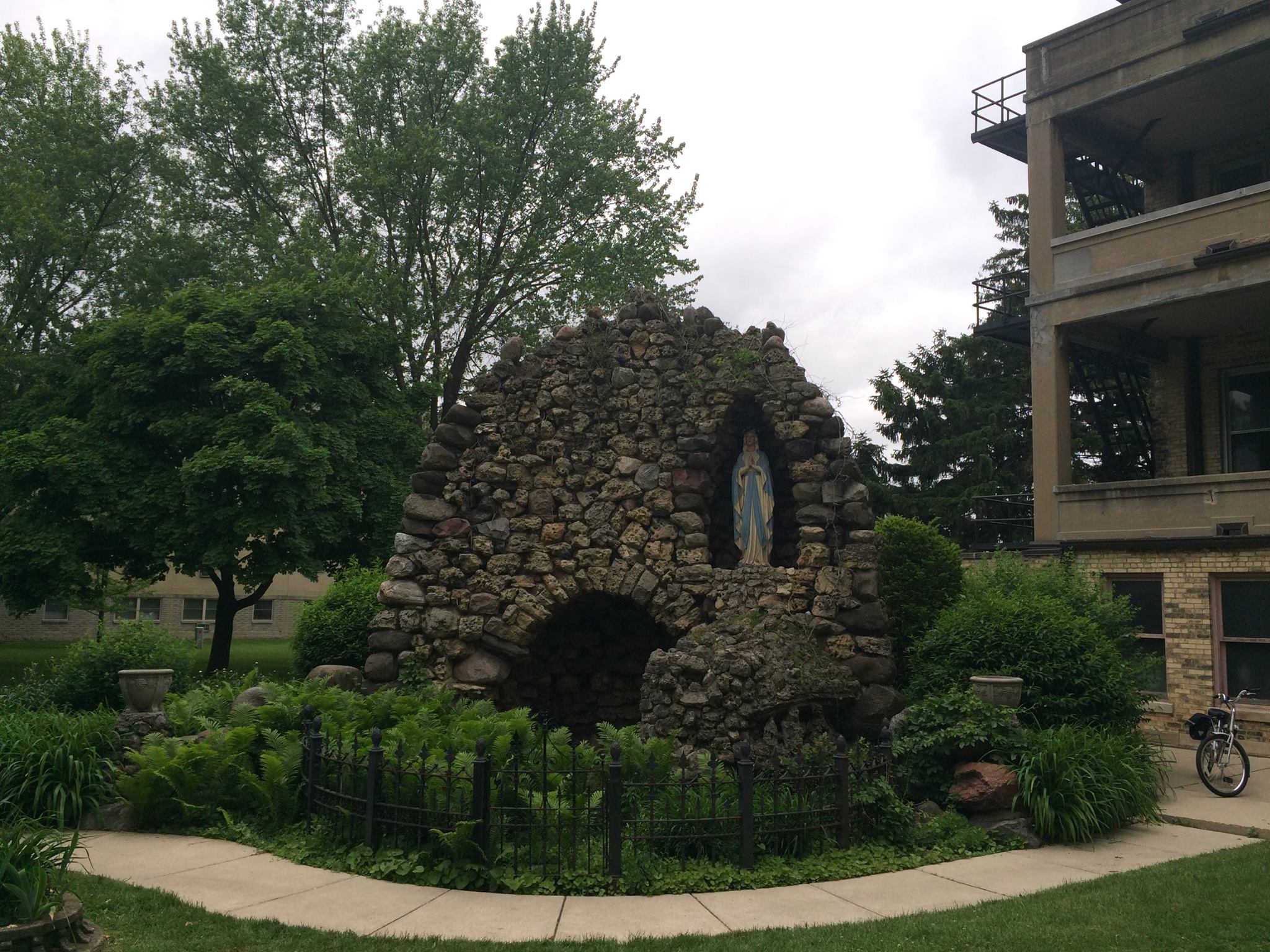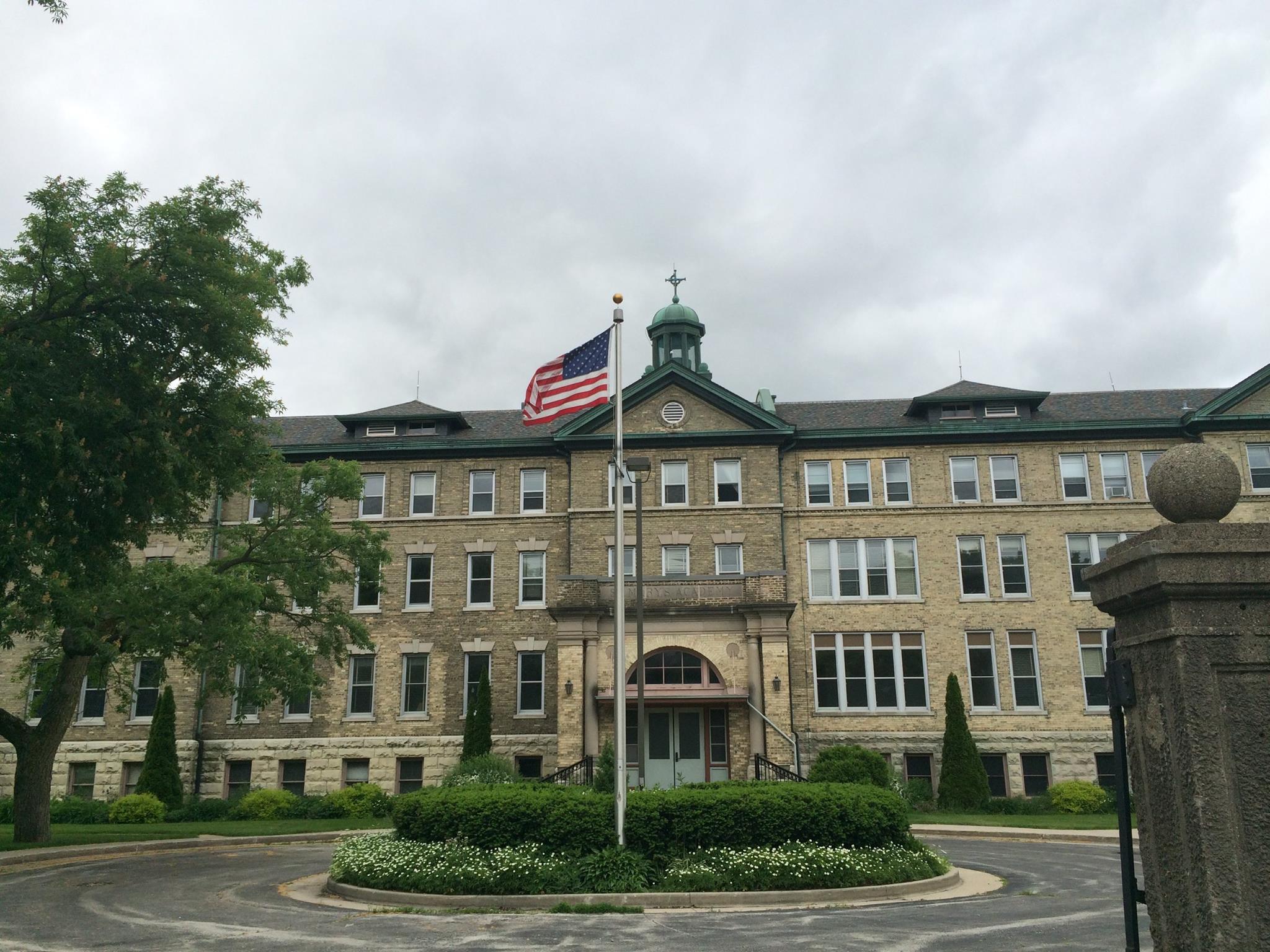 With the buildings fenced off for demo,
I look through the chain-link and see memories I think are held in the bricks, of writers, artists, school girls in uniform, nuns in full habit. I admit to stealing the sign that hung over my door in Redbird Studio. It says "Our Lady of Victory." That's how I choose to think of this building — a million victories, large and small, public and personal — fostered by the Sisters of St. Francis of Assisi since they laid the first cornerstone and dared to start teaching — of all things — girls! Let me rephrase that. They allowed girls to learn. We take that for granted now, at least in most cases in this country. That's a victory I wish we could spread worldwide.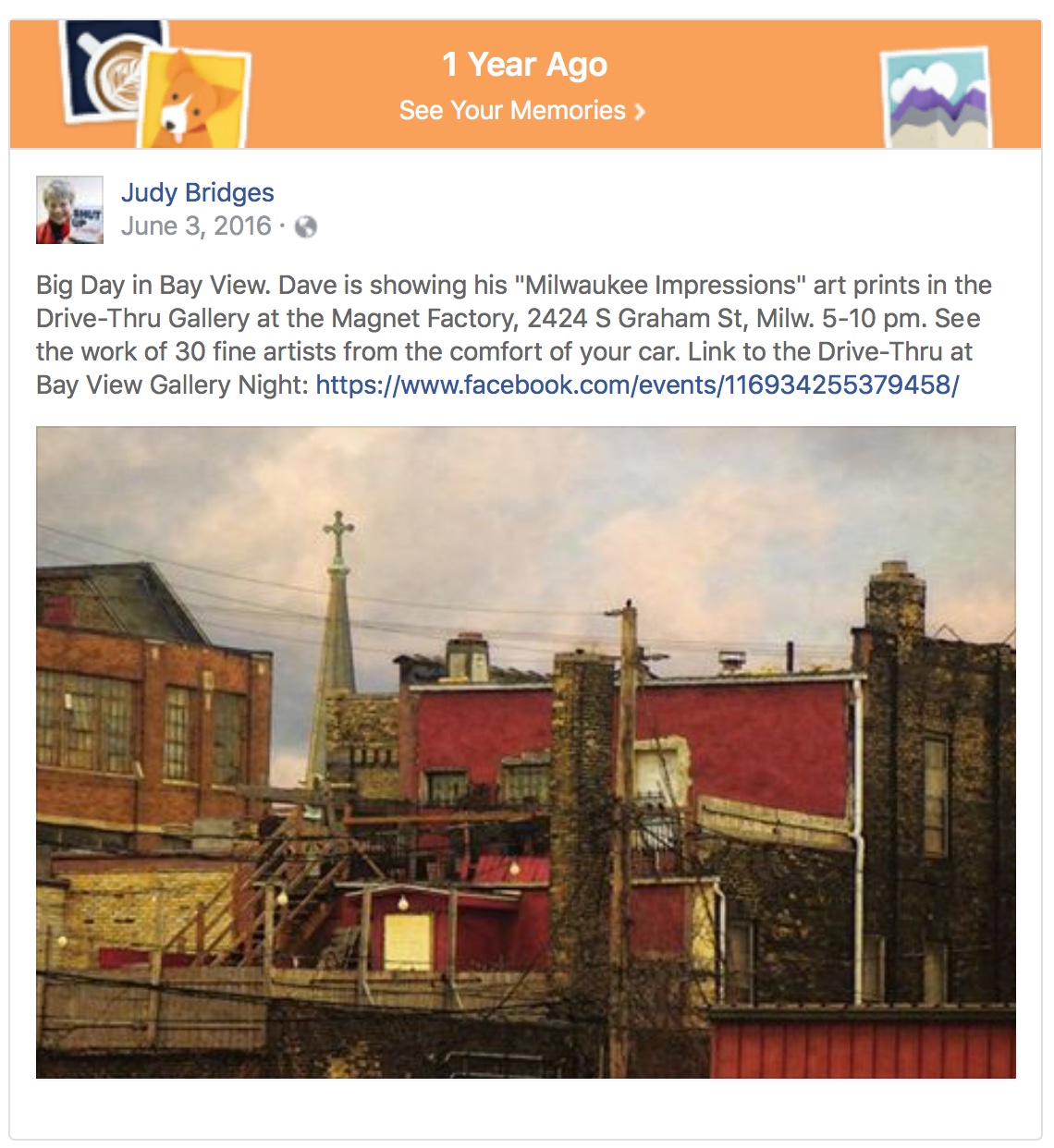 Before I married Dave Blank,
a mutual friend stood at a window at UWM and said he was looking at the scene the way Dave does, with eyes that see — and appreciate — details we often overlook.
Today this FB "memory" popped up and putting 2 and 2 together, I have to say that like our friend, I have loved learning to "see" the David way.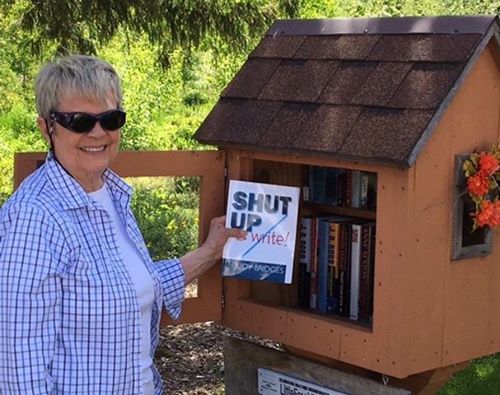 Free reads in the Little Libraries
This one's on the driveway into Canticle and Juniper Court, 3201 S. Superior (Lake Drive), Bay View, alongside the soon-to-be demoed Marian Center. I can still feel myself standing at the 4th floor windows in Redbird Studio, staring down at this spot. I wrote a good bit of this book up there, also met and learned from a lot of wonderful people — friends for life. This summer we'll be putting more books in more little libraries. This seemed like a good place to begin.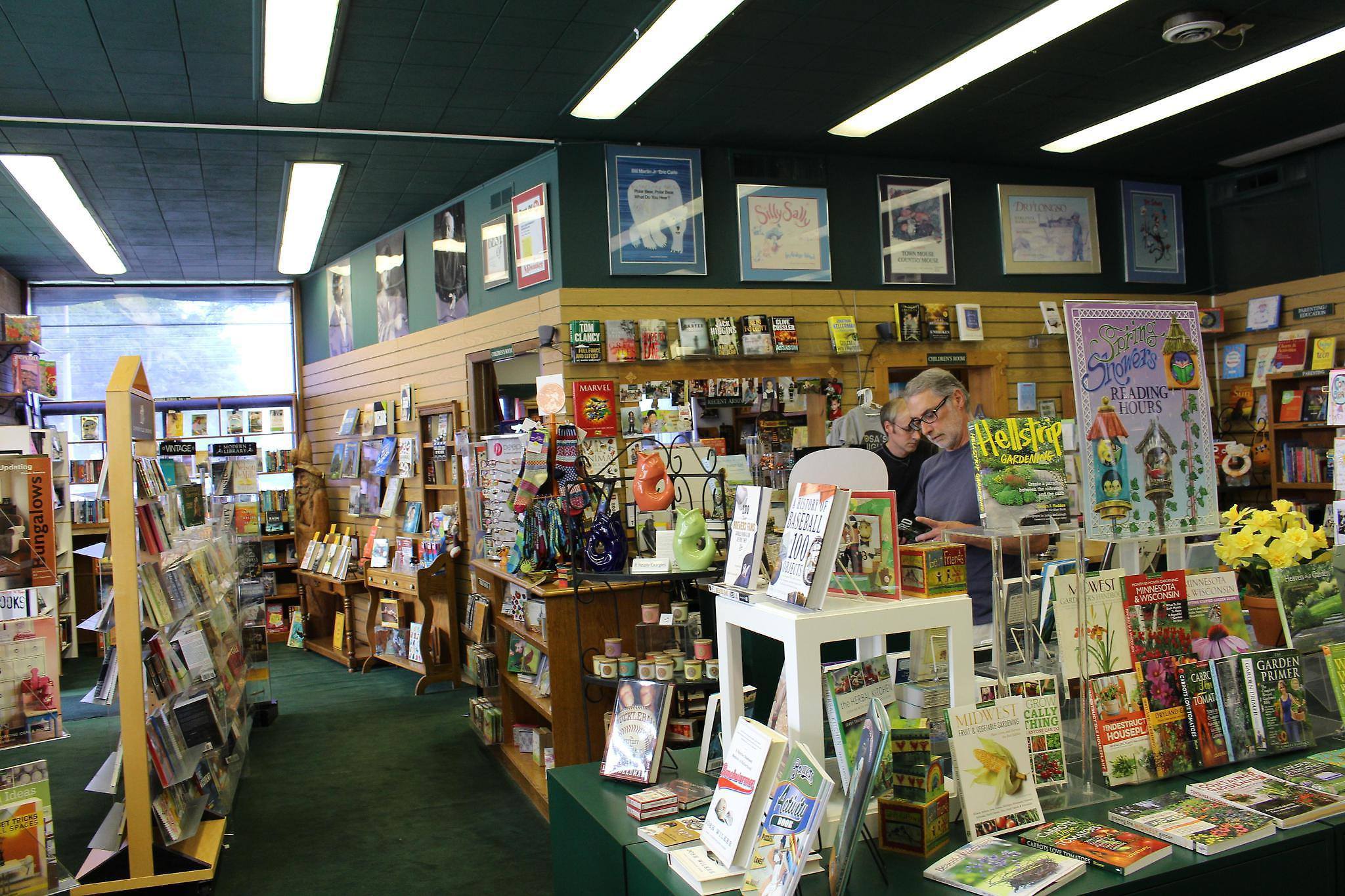 Good news for Indie Bookstore Lovers!
We stopped in at The Little Read Book in Wauwatosa and were thrilled to see that most of the yellow construction tape that was wrapped around the Village is gone and parking was downright easy.
The shop is as beguiling as ever – the staff is knowledgeable and welcoming, books are well displayed, the kid's corner is enough to make me want to shrink a couple feet and start my reading life all over again.
We also eyeballed face-out copies of our favorite guide for writers — Shut Up & Write! – signed by the author.
After so many months of yellow cones and tapes, I guarantee they will be very happy to see you. 7603 W State St., Wauwatosa. Mon-Fri 10-8, Sat. 10-6, Sun, 12-4.
My brother Bob and I really did a number on the thousands of photos inherited from 3 families.
Best decision: get rid of the ones where people don't look like themselves — like the last photo of Grandma with her hair mussed and that vacant look on her face. In real life, she was never ever vacant. Also ditched all remaining uglies of ourselves and friends. Result: we're getting cuter all the time. Process highly recommended.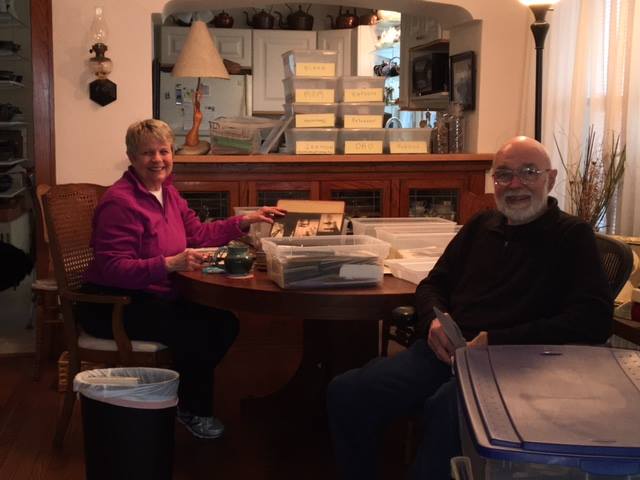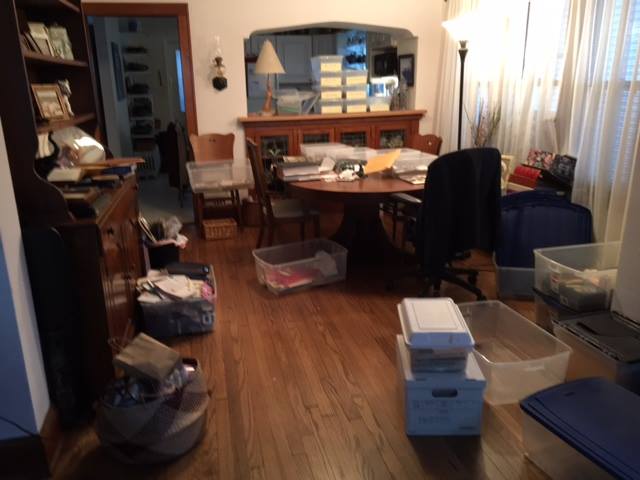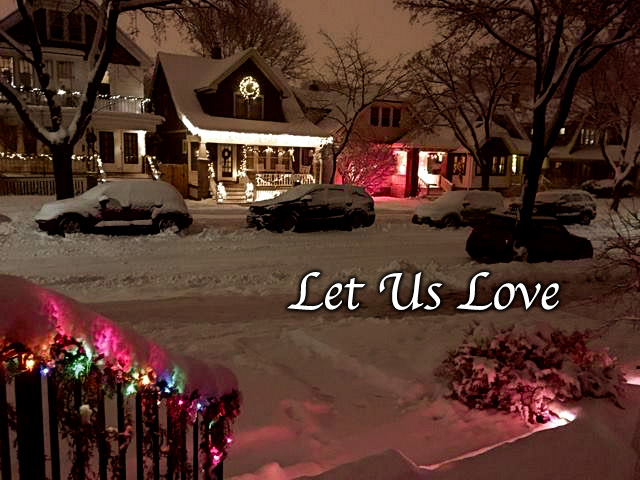 This photo taken from our front porch shows the sweetness of living in our cozy neighborhood on a snowy night.
We've lived in fancier places, and poorer, and this one fits us just right.
We wish everyone in the world had at least this much.

One of the nicest parts of my life is hearing from students I fell in love with,
like Rudy Hummel (Kids Camps) and his dad, Mark (Shut Up & Write class).
Rudy's in college now, but his last year in high school he slept outside every night to bring attention to – well, I'll let him tell it. All I'll say is the Hummels live in Duluth!
Rudy moving into his snow cave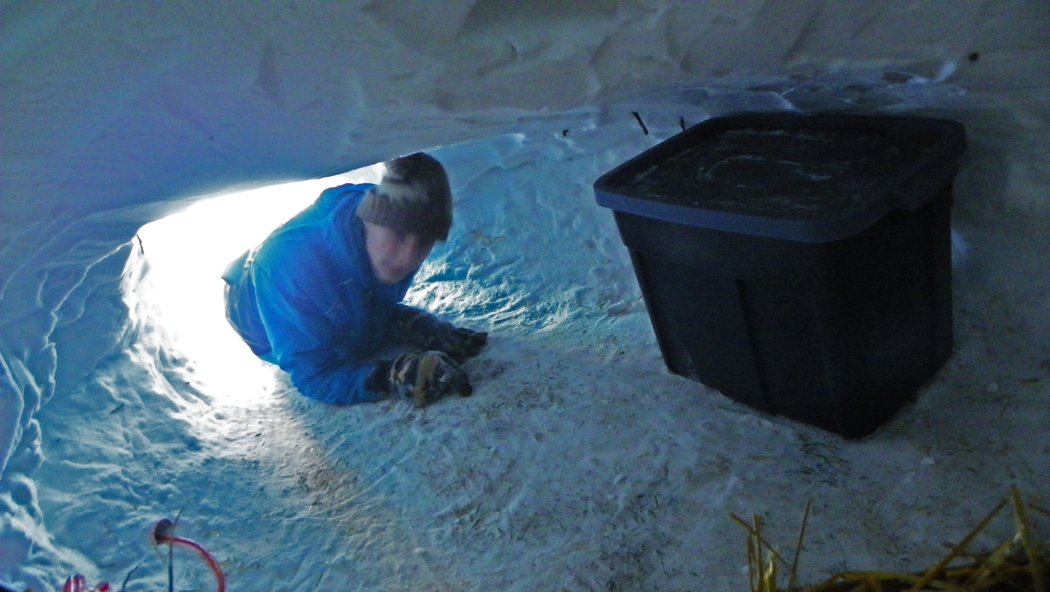 Here is a slice from Rudy's website, written at the time...
"I thought about what's important to me, like the outdoors. I also thought about how many people have to sleep outside all the time, without sleeping bags or warm clothing. At first glance, these don't seem very well connected, but to me they are. Caring for people is important, and so is caring for the environment that sustains us. Treating nature well is treating each other well, both now, and for generations yet to come. It's our habitat, too. We all live on this planet together. I chose Habitat for Humanity because it sets a wonderful example of caring for people. It's an organization that builds houses for people who are homeless. I chose Hawk Ridge Bird Observatory because it connects people to nature and helps them understand why we need to care for it."
~ See Rudy's blog: Snoreoutdoors.com
"May we all feel shaken up a bit, and be inspired to do something."
From an post by Rudy's Mom, Gail Hummel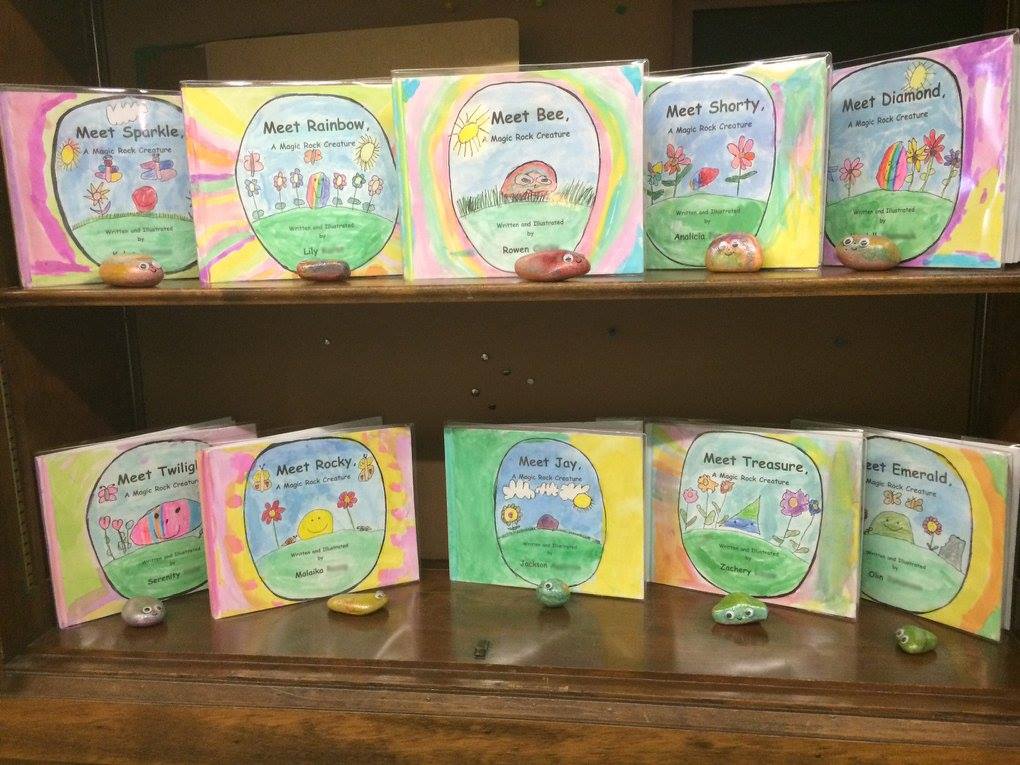 "Rock Story" books written by young authors in Ms. Beehler's K5 group.
How Writers Create Ripples
Meet Sparkle, Rainbow, Bee, Shorty, Diamond, Twilight, Rocky, Jay, Treasure and Emerald, the very special friends of Ms. Beehler's K5 class.
At our farewell to the Marian Center party there was much talk of how the ripples of things begun at Redbird have spread and become part of many lives. Adults who were kids in the 90s remembered hiking down to the beach, finding their special rocks and writing stories about them. I often hear from grown up "kids" who still treasure their rocks.
But this story has another slant, from one of the teachers who joined Redbird and led several of the early grade summer camps. Judy Beehler is a Milwaukee Public School Montessori teacher at Fernwood Elementary in Bay View. She adopted the "rock story" concept, developed it further and, well, here's a note she wrote after the farewell party.
(from Judy Beehler, June, 2016)
"I was late because, thanks to you, I was hosting my own young authors' party at Fernwood. I have taken so much of what I learned from you and applied it in my own teaching. Every year my K5 students culminate their years with me by writing a magic rock book. I still use my story that I wrote at Redbird to get my students inspired to write their own books. We go to the beach to find our magic rocks. Then they name them and decorate them, and for the next month or so those rocks become members of the class as the children write and illustrate their own books.
"The results amaze everybody (including me) each year. The books are wonderful, and the children grow so much as readers, writers and artists as they work on their books and then share them with anyone who will sit down with them to hear their stories. I am no Judy Bridges, but thanks to your inspiration, I have "edited and published" around 125 magic rock books. They write and illustrate, and I type their stories and mount their illustrations in their books. The finished books are treasured by the authors and their families. As I learned from you, everyone can write and not one of my K5 students has left my class without producing a book. I credit you with my passion for helping children learn to write and becoming pretty successful at it. I am going to try to send you a picture of this year's books. I wish you could actually see them and hear their stories."
Ms. Beehler sent the photos of the kids and their books. (We blurred the kids' names.) The beach photo was taken a few years ago, during a Redbird writers' camp.

Young Authors in Ms. Beehler's class at Fernwood Montessori Elementary,
an MPS school in Bay View (Milwaukee) WI.

Ms. Beehler helping kids find their magic rocks.
Taken while she was teaching a Redbird Studio summer camp.
I write, therefore...
I help other people write.
Does that make any sense? Maybe not in any other occupation, but it's true in writing. Every writer I know gets a kick out of helping another writer over a hurdle. As one friend said, "We have to be the only professionals who work so hard to help our competition."
Why do we do this? We learn while we're helping, for one thing. And I suppose we like being in the company of other writers. And then there's this little ego thing: it feels good to see someone jump the hurdle and get where they want to go, knowing that you contributed to their success.
I guess that's the big thing for me. In the 23 years since the Studio opened, and in the years before that when I wrote for a living, I got addicted to the thrill of seeing writers win. Like Doreen, when she wrote that first perfect story; Maria, when she heard the applause after her play was read; Gene, when he saw his book in print; Steve, when he sold his first article. The list goes on, happily, for a long, long time.
We see a lot of wins around here. Seems whenever I start out a day cranky, someone will call, or write, to say "Hey, guess what!" They'll say thanks, to me and all the other writers at Redbird who help one another.
So okay. We write, therefore... we help other people write. I think that's a pretty good thing to do with our time.
One day we ran a survey asking writers to finish the sentence: I write, therefore...
Here's what they said:
"I write, therefore I spend a lot of time staring at my computer."
"I write, therefore my family and friends think I'm unemployed."
"I write, therefore I drink."
A few answered:
"I write, therefore I AM A WRITER."
We liked that. But we liked this better:
"I write, therefore I think."